74% Of Indian Workers Fear Losing Their Jobs To AI Like ChatGPT, While 83% Of Workers Are Prepared To Use AI
Artificial intelligence (AI) in workplaces has raised fears and misunderstandings among Indian workers, according to a Microsoft analysis dubbed "Work Trend Index 2023."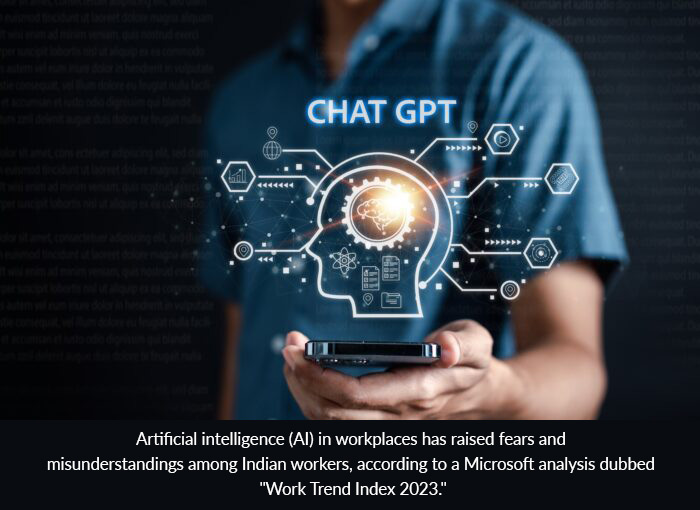 74 percent of Indian workers, according to the research, voiced anxiety about AI taking their employment.
However, the study also found that 83% of respondents were open to giving AI jobs to do in order to lighten their burdens.
74% of Indians worried that AI will take over jobs.
According to the study, Indian employees are at ease using AI for not only administrative activities (86%) but also analytical work (88%) and creative aspects of their jobs (77%). This shows a degree of acceptance and recognition of artificial intelligence's ability to increase productivity across a range of work responsibilities.
31 nations, including 14 Asian and Pacific markets, and 31,000 workers from various industries participated in the poll for the Work Trend Index.
According to data gathered from sources including emails, meetings, conversations, and labor trends on LinkedIn, the pace of work has surpassed humans' capacity to keep up, which is having an effect on creativity.
The use of AI for creative aspects of their occupations was characterized as being completely at ease by talented employees in India who are well-versed in AI. Additionally, managers in the nation are more inclined to think that AI would increase productivity at work rather than result in job losses.
Report Highlights Issues Indian Workers Face
According to the report, 76 percent of Indian workers admit they don't have enough time or energy to finish their jobs. The challenge to be inventive is connected to this lack of time and energy.
People spend 57 percent of their time communicating and only 43 percent creating, according to research from Microsoft 365. Additionally, 78% of Indian workers acknowledged that they had trouble maintaining focus during the course of the workday.
Over 84 percent of Indian executives expressed concerns about a lack of innovation, which was another focus of the study. Productivity was found to be significantly hampered by ineffective meetings, with 46% of employees reporting that their absence from 50% or more of meetings would go unnoticed by coworkers.
Additionally, 78 percent of workers felt they currently lacked the skills essential to meet their job needs, compared to 90 percent of Indian leaders who thought staff needed to learn new skills to adapt to the advent of AI.